NICK PERKINS, PT, DPT, OCS
Clinical Manager/Injury Specialist
Dr. Nick Perkins was born and raised in San Diego, CA. From a young age he was involved in multiple sports, and eventually became a tri-sport varsity athlete during his High School years. Dr. Perkins was also a youth sports coach where he promoted self-esteem and confidence through fitness at multiple elementary and middle schools in San Diego. He earned his Bachelor of Science in Public Health Science from the University of California Irvine.
Dr. Perkins received his Doctorate of Physical Therapy with high honors from the University of St. Augustine in San Marcos, California. The University of St. Augustine's comprehensive curriculum provided him with a strong background in physical rehabilitation of various patient populations with an emphasis in orthopedic and manual physical therapy. Dr. Perkins is also an instructor with AQuire/ KOH Education for Instrument Assisted Soft Tissue Mobilization Techniques (IASTM) course. He is a medical team member of Team USA weightlifting and the AVP Pro Beach volleyball tour.
Dr. Perkins continues to expand his practice by becoming certified in Graston Technique, Instrument Assisted Soft Tissue Mobilization Expert Practitioner, Neuromuscular Taping, and Fascial Manipulation® techniques. Dr. Perkins also completed continuing education coursework in Total Motion Release Spinal Manipulation as well as a year-long Orthopedic Manual Therapy Seminar Series. Following his passion for teaching Dr. Perkins became a Certified Clinical Instructor and has accepted multiple Physical Therapy Students for clinical internships.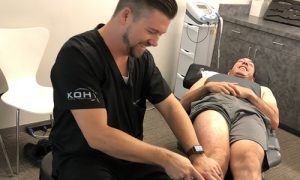 Dr. Perkins was selected as class representative for the Student Physical Therapy Association (SPTA), and eventually took a leadership role as the SPTA Vice President, where he enjoyed copious opportunities to volunteer and fund-raise for local and national physical therapy initiatives. Dr. Perkins, was also chosen by his professors to be an anatomy tutor, and a Teaching Assistant for the Spinal Evaluation and Manipulation course at the University of St. Augustine. He relished the opportunity to teach his colleagues. Dr. Perkins, received certificates in the Evaluation and Treatment of the Cervical, Thoracic, and Lumbar Spine, Lumbo-Pelvic-Hip Complex, Extremity Integration, and Myofascial Manipulation in his final trimester. His clinical experiences allowed Dr. Perkins to treat a diverse patient population ranging from dependent geriatrics to advanced athletes in both land based and aquatic settings.
Dr. Perkins current career goals are to continue his education with numerous other clinical specializations. Growing up playing multiple sports and as an athlete, Dr. Perkins hopes to continue expanding his practice and integrate his passion for athletics and fitness with his therapeutic interventions to bring out the inner athlete in all his patients.
Board Certified Orthopedic Clinical Specialist
Adjunct Professor at University of St. Augustine School of Physical Therapy
Team USA Weightlifting Medical Team Member
AVP Pro Beach Volleyball Medical Team Member
Instructor for IASTM L1 Practitioner course for AQUIRE / KOH Education
Certified IASTM L1 & L2 Expert Practitioner
Certified Graston Technique provider
Certified in Advanced Concepts in Kinesiology Taping technique
Certified Total Motion Release Spinal Manipulation technique
Certified Clinical Instructor
Trained in Fascial Joint Pumping techniques
Trained in Orthopedic Manual Therapy Seminar Series
NATHAN MCCLUSKY, PT, DPT
Injury Specialist
Dr. Nathan McClusky completed his Doctorate of Physical Therapy with high honors from the University of St. Augustine in San Marcos, CA. Dr. McClusky also has a Bachelors of Science in Kinesiology from California State University, Fullerton. His interest in the field of physical therapy began after undergoing shoulder injury as a result of a snowboarding injury. He was fascinated by physical therapists, who were able to assist in regaining strength and ROM, and decided to enroll in an Adapted Kinesiology Class. The class gave him the opportunity to work with individuals recovering from strokes, traumatic brain injuries, ACL surgeries, and heart surgeries. Dr. McClusky's passion for physical therapy grew, leading him to further his education within that field.
Dr. McClusky enjoys applying his knowledge to his own training and rehabilitation. When he is not treating patients, he is a teaching assistant at Saddleback College for physiology and pathophysiology. He has been teaching physiology for over 6 years and enjoys helping students understand a very challenging subject. Dr. McClusky is well versed in how the the body responds to exercise, medications, and injuries. His thorough understanding of physiology helps to create efficient treatment plans for his patients.
Dr. McClusky is a Professional Snowboarding Instructor, you can see him coaching and shredding at Mammoth and Big Bear Mountain Resorts. He began coaching in 2005 and has enjoyed every minute of it. He applies his knowledge of how the body works to the mechanics of snowboarding. He enjoys traveling and meeting new people. Overall, Dr. McClusky enjoys being a physical therapist and coaching because he is passionate about assisting others overcome injuries so they can live their best life and return to their normal activities.
Certified Neuromuscular Taping Techniques

Teaching Assistant at Saddleback College
Jennifer Ha, PTA
Injury Specialist
Jennifer will be right back….