What is concierge medicine?
Have you ever encountered the frustration of being injured playing sports or at work  and not being able to get an office visit with a clinician for days or even weeks.   You don't know if you have a minor strain or a tear in the muscle or a bone bruise vs. a fracture.  And then, if you need to get the injury further examined, you need to find an orthopedist or other physician and start the process all over again.  Perhaps you are not aware, but with a traditional physical therapy appointment,  a 30-year-old patient with a minor injury will get the same visit time as an 80-year-old patient with a severe injury and multiple medical issues.  However, with concierge medicine, there is time to form an even better relationship between patient and physical therapist so the patient feels valued and heard, and the physical therapist is aware of all patient concerns so that the best care and attention is given to the patient.
Benefits of concierge medicine
There are many benefits of Concierge Services including more one-on-one personalized service with your physical therapist.  Patients that are attracted to Concierge Medicine are more satisfied with their level of care than compared to the 65% of patients that are in traditional health care.  There are currently 900 practices in the United States that offer this type of service with more than 500,000 patients enjoying this type of personalized care.  In fact, in two short years, this type of personalized service has increased almost 10%.
100% one-on-one care
Ability to quickly reach your injury specialist with questions
Who is concierge sports medicine physical therapy for?
Concierge Sports Medicine makes sense for a lot of people – especially individuals who have a chronic medical condition that requires regular visits to keep their condition manageable.  Even if you don't have a chronic condition, Concierge Sports Medicine is an attractive option.  This added service is not a substitute for health insurance; it is a pairing with traditional insurance, as traditional health insurance is needed to cover items such as regular physical therapy services and visits.
Concierge services
The fee and services offered differ between offices, but with Dr. Koh and his team, you will have access to the doctor within 48 hours.  Appointment visits are extended so you have time to talk about your needs and the doctor has the time to guide you through the healing process.  Appointments are open within 48 hours virtually or in-person.  Additionally, it can be very stressful finding and getting an appointment with specialists, so we will help you set up appointments. Concierge services are not covered through your insurance.
Your health is a our priority.  KOHPT Team dedicated support staff are ready to treat you.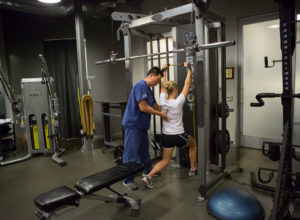 What are the benefits of concierge physical therapy?
For instance, if a patient wants PT intervention in preparation for an upcoming surgery, insurance may or may not cover those pre-rehabilitation (sometimes called prehab) services. Concierge PT eliminates the stress of worrying about insurance coverage, enabling patients to receive all sorts of physical therapies—including sports conditioning, strengthening, mobility exercises, recent technologies, and preventative therapies.
There are numerous benefits such as:
Pre-rehabilitation: when a patient wishes to receive physical therapy prior to an upcoming surgery, insurance may not cover the pre-rehabilitation (otherwise known as "prehab") services.
Sports Conditioning: Concierge PT takes away that stress by allowing any kind of physical therapies—including sports conditioning, strengthening, mobility exercises and even cutting-edge technologies—as well as preventative measures without having to worry about whether it will be covered or not.
HMO limitations: Concierge PT also eliminates the limitations of HMOs, which are usually more restrictive. This can be beneficial for those wanting extra attention, for those looking to get into a more-desirable physical therapy practice, or to get back into shape after an injury or post-surgery.
In addition, concierge models offer patients the privilege of reserving appointments when it is most convenient for them. Those in this model typically benefit from:
full personalized attention
treatment sessions that affective to witness faster results
effortless scheduling and better access to the therapists
How much does concierge PT cost?
There are many different packages to choose from depending on the patient needs.  The cost of concierge physical therapy is especially appealing for those who prefer on-demand care, as well as patients that have been held back by the restrictions of insurance plans.
For individuals with high-deductible policies or limited physical therapy coverage, or for those that want therapy outside for non-covered services such as sports conditioning, choosing this model could often be a more economical option than going through their insurance company. In some cases, it may even be cheaper.
Does Insurance Cover My Membership?