Offering a variety of sports injury prevention and recovery rehab techniques for the best sports injury rehab results for athletes of all levels.
What is sports injury recovery physical therapy?
Active individuals must incorporate recovery therapy into their routine to give their muscles time to heal before taking on the next workout. If an athlete forgoes this step or immediately moves onto the following session, they are more likely to experience physical damage. With therapeutic therapies, athletes can ease tension in their muscles while eliminating any lactic acid that has accumulated – a process which offers them not only respite from aches but also peaceful sleep and a productive day post-treatment.
At Koh PT Lab, we specialize in biomechanics, exercise rehabilitation and helping our patients regain their optimal level of function.
What types of therapies and techniques are used for sports injury prevention and recovery ?
Exercise rehabilitation, graded activity, manual therapy, performance assessment and modification, massage therapy with taping techniques as well as electrotherapy and Shockwave Therapy are some of the treatment options available for sports recovery.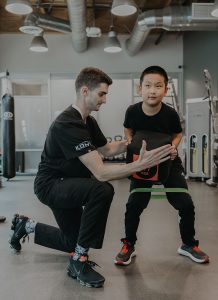 Effectiveness of sports recovery for athletes
Active recovery is important for restoring areas of the body that have been broken down through intense exercise. It pumps new, nutrient-rich blood in to soft tissue and removes built up waste products. This helps muscles, tendons and ligaments repair themselves so they can be ready for more vigorous activity later on.
After you train, your body needs to repair and reenergize itself in order to adapt to the strenuous exercise. Microtears form after intense workouts, so a proper recovery period is necessary for healing and restoring glycogen stores. For athletes competing or training regularly, it's crucial that they employ various techniques for rapid recovery such as muscle soreness prevention and fatigue management – this will enable their next session or competition not be hindered by exhaustion.
Benefits of sports recovery rehab with a physical therapist
The benefits of physical therapy can range from improved mobility, increased strength, decreased pain levels, and faster recovery times.
At Koh PT Lab, our therapists possess exceptional expertise in providing advice and direction to athletes across a number of sports, including but not limited to volleyball players, golfers, football players, baseball players, lacrosse participants, tennis competitors; swimmers and water polo team members.
Benefits include:
sports-related pain

faster post-injury recovery

better cardiovascular fitness

improved athletic performance

reduced risk of injury, illness, and fatigue
KOH Physical Therapy Expertise
At Koh PT Lab, we have extensive experience training all levels of athletes.
These are just a few of the athletic groups that place their trust in Koh Physical Therapy.
International Olympic Medical Team
Team USA Volleyball
Team USA Weightlifting
Team USA Weightlifting
Team USA Bobsled
Team USA Sailing
Team USA Track and Field
Team USA Fencing
NCAA Tae Kwon Do
AVP Pro Beach
Vans Pro Skateboarding
Mountain Dew Tour